1. Install Aptoide Client in your device
(if it is not yet installed)
To install Applications from Aptoide you need to install Aptoide Client.
1.1 You can use one of the following ways:
- Download aptoide.apk and install it in your phone:
- Or scan this QR code with your Android device: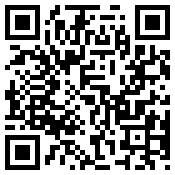 1.2 After the download is complete, go to the notification bar and press de application name (Aptoide.apk) to start installing Aptoide.
1.3 Click in "Install" button to finish Aptoide installation.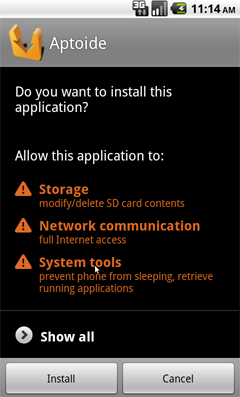 2. Browse through the applications and choose one to install
2.1 Access this application in Aptoide Mobile, by clicking here or scanning the QR Code below.
Ultimate Samsung Galaxy Y App
QR Code


Click the Install button!
Specifications:
Min SDK:
7
Min Screen:
Small
Permissions:
android.permission.INTERNET
Allows applications to open network sockets.
android.permission.ACCESS_NETWORK_STATE
Allows applications to access information about networks
android.permission.WRITE_EXTERNAL_STORAGE
Allows an application to write to external storage.
android.permission.WAKE_LOCK
Allows using PowerManager WakeLocks to keep processor from sleeping or screen from dimming.
drippler.samsung.galaxy.y.permission.C2D_MESSAGE
com.google.android.c2dm.permission.RECEIVE
Description:
Get the latest Galaxy Y (Galaxy Young) updates, news & rumors: apps, games, Android ROM versions, usage tips & tricks, themes, tech-support, software and firmware updates, reviews, accessories and more!

Drippler keeps you constantly excited about your Android, making sure you never miss out on great content and information. 


★ FEATURES

✓ Latest updates - stay up-to-date

✓ Highlights - browse the most popular Samsung Galaxy Y updates

✓ Notifications - customize your Samsung Galaxy Y news

✓ Desktop widget - get the hottest new updates straight to your desktop


★ MEDIA

"A must-have for Android owners" -TheNextWeb

"Drippler offers news on Android updates and useful apps" -The New York Times

"This is a big deal... people don't know all this!" -TechCrunch

"Drippler starts being helpful the moment it's installed" -CRN


★ USER REVIEWS

"All the best news and apps tailored for my phone"

"My one stop for my phone updates & news. Excellent"

"Couldn't live without this awesome app!"

"Amazing app! I Check every day to see what new stuff I can have or use with my phone"


★ WE'D LOVE TO HEAR FROM YOU

✓ Drippler -http://drippler.com✓ Facebook -http://facebook.com/drippler✓ Twitter -http://twitter.com/drippler✓ Email -appfeedback@drippler.comKeywords: Samsung Galaxy Y, Samsung Galaxy Young, Galaxy Y, Galaxy Young, Galaxy Y Wallpapers, Galaxy Y Root, Galaxy Y Theme, Galaxy Y Themes, Galaxy Y Unlock, Galaxy Y Update, Galaxy Y Apps, Galaxy Y Updates, Galaxy Y ROM
0

users LIKE this Android application
0

users DON'T LIKE this Android application
Ultimate Samsung Galaxy Y App
1